The town of Kailua is one of the most popular locations on Oahu. Known for its amazing beaches at the Kailua Beach Park and Lanikai, Kailua draws in locals and visitors alike. According to the latest stats, 53,000 people call Kailua...home. Compared to Honolulu just 35 minutes away, Kailua has a small beach town feel. People love the relaxing atmosphere and the stunning views of the ocean. It's not surprising, that the price of Kailua real estate is one of the highest on Oahu.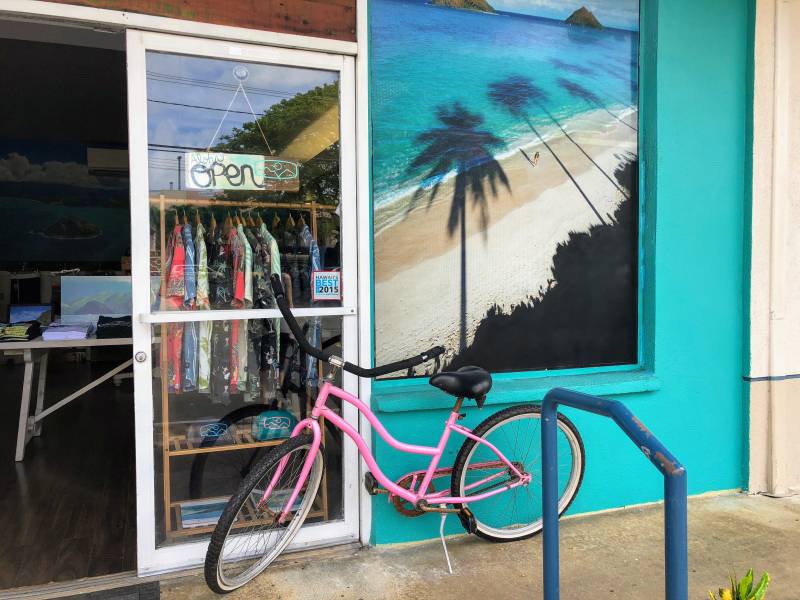 Beach cruiser in front of a store in Kailua Town.
Kailua Beaches
The beaches of Kailua are world-renowned. Kailua Beach Park and Lanikai beach are conversation starters. People are familiar with the golden sand beaches and turquoise waters of Kailua and reminisce about their time spent in the sun. Kailua town residents are fortunate enough to have spectacular beach and ocean views from many locations, as there are numerous beachfront and ocean view properties. While some residents have views, many who live at ocean level, are also a stone's throw away from the beach. The beach is never far for anyone who lives in Kailua. In fact, the center of Kailua town, filled with shops, and restaurants is only 2 miles from one of the most beautiful and well-known beaches in the world.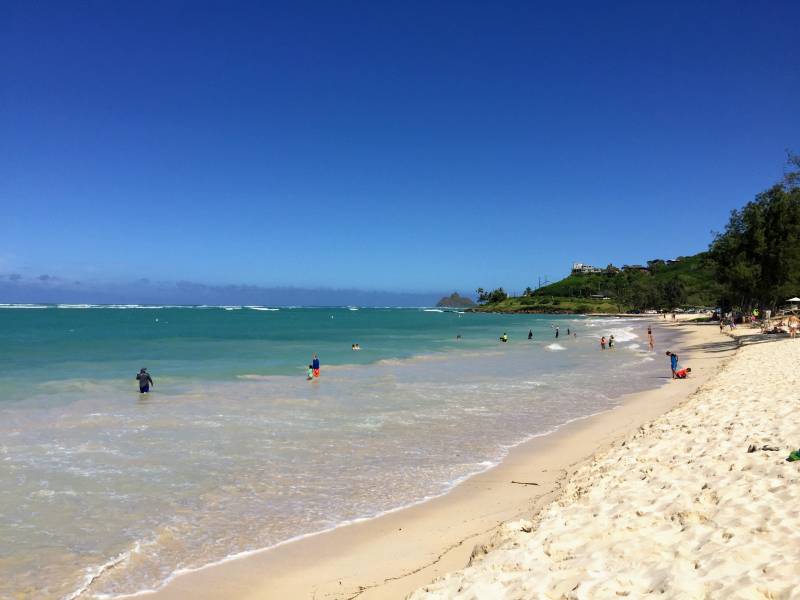 Beautiful white sand and turquoise ocean at Kailua Beach Park.
Kailua Living
Living in Kailua is a laid-back experience. The neighborhoods are filled with tropical lush plants, and it's a common sight to see people on their beach cruisers commuting around town. Whether it's to head to the beach or to pick up a few groceries, bikes are a common sight in Kailua. For daily needs and a little bit of fun, residents head to the town center. It's a one-stop experience with plenty of parking stores, restaurants, and amenities. Residents who live close by can skip the drive altogether and enjoy the welcoming atmosphere daily. Tourists enjoy spending time in Kailua town center as well, and can be spotted strolling around, shopping, and admiring the views.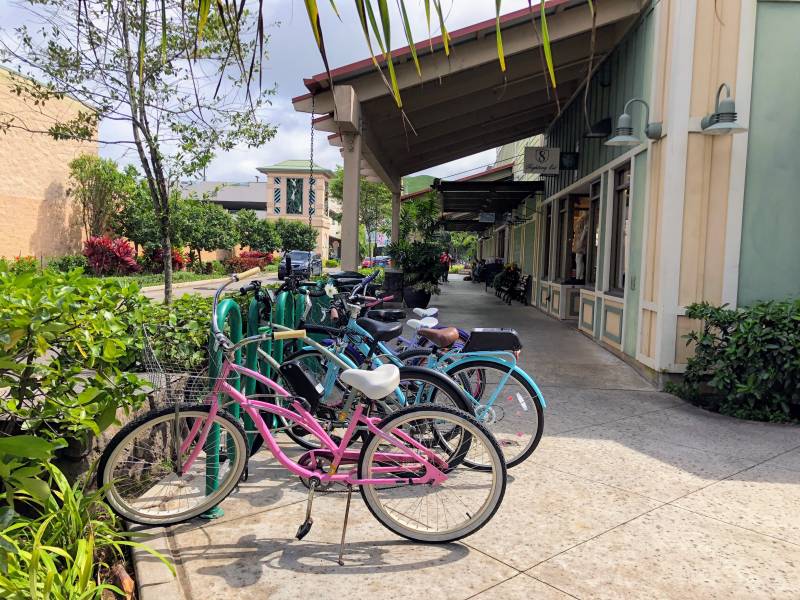 Beach cruisers in front of a shopping area in Kailua Town.
Kailua Town Shopping
Nearly all stores and businesses are situated at street level, making them very accessible to the public. Most of Kailua retail is located in one area, where it's easy to do some one-stop shopping. Each street has a variety of businesses lining the sidewalks, with residents and tourists weaving in and out of each store as they shop and browse through the merchandise. Boutiques, surf shops, and gift shops are all around the perimeter of Kailua. Colorful stores welcome new and repeat customers with their assortment of local and brand name merchandise.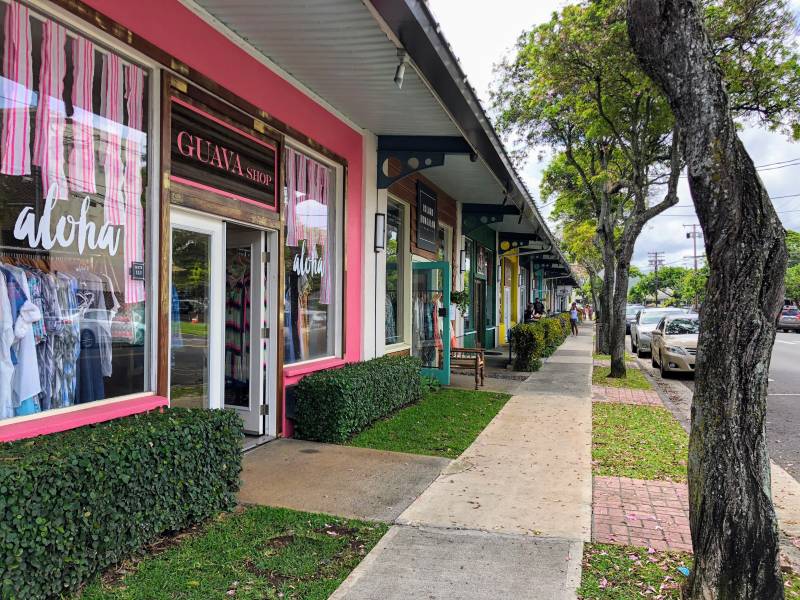 Kailua Town shops.
For everyday shopping needs, Target, Whole Foods, and Foodland are located right in the heart of Kailua. Shoppers are often welcomed by wild chickens wandering around in the parking lots, serving as entertainment to unsuspecting tourists.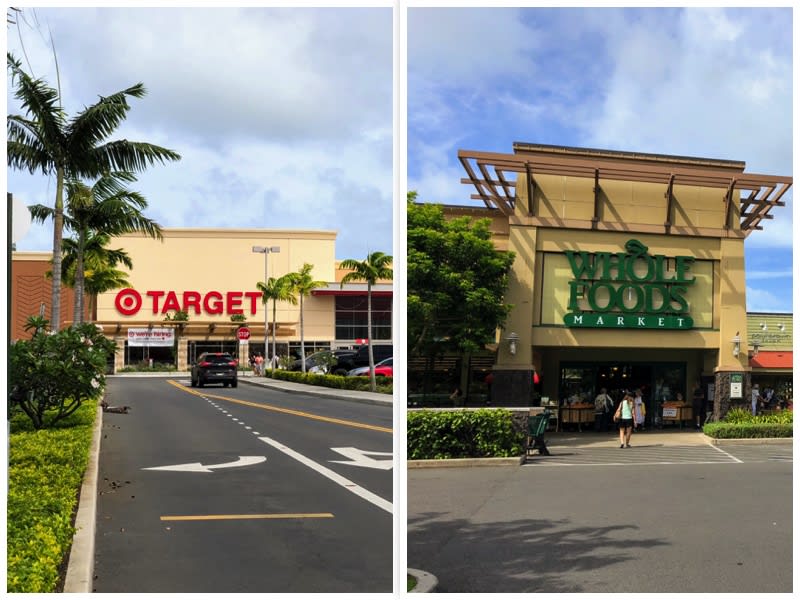 Target, Whole Foods, Foodland, are three of the larger stores in Kailua.
Kailua Restaurants and Services
Since Kailua is a popular beach town, it has a good variety of restaurants. Visitors who spend time at the nearby Kailua Beach Park will often stop by the town center for a bite to eat. This allows a good number of restaurants to thrive in a relatively small town which otherwise would not see so many choices. Beach clothes and slippers (flip flops) are the standard dress code for a relaxing and fun atmosphere during the day, with Aloha wear in the evenings. Kailua restaurants are about bringing people together and providing a fun and tasty dining experience.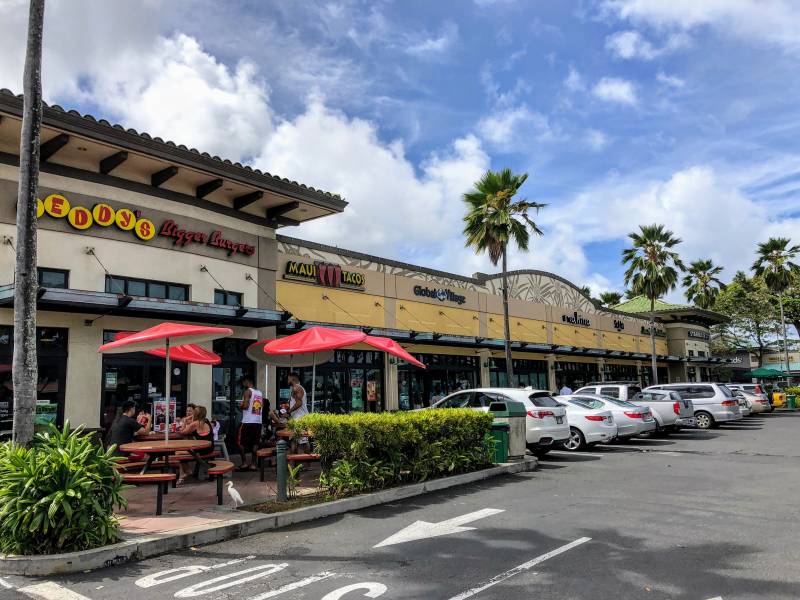 There is no shortage of places to eat in Kailua.
In addition to many restaurants, Kailua is pretty self-sufficient when it comes to services. Straub Kailua Family Health Center services the needs of residents living on the Windward side of Oahu. Hair and beauty salons, automotive services, computer repair, postal and UPS outlets, Kailua Cinemas, diving, and recreational services, to name a few, are centrally located in Kailua. Residents who need specialized services can always drive to Honolulu, just across the Pali Hwy, but for everyday needs, Kailua has it all.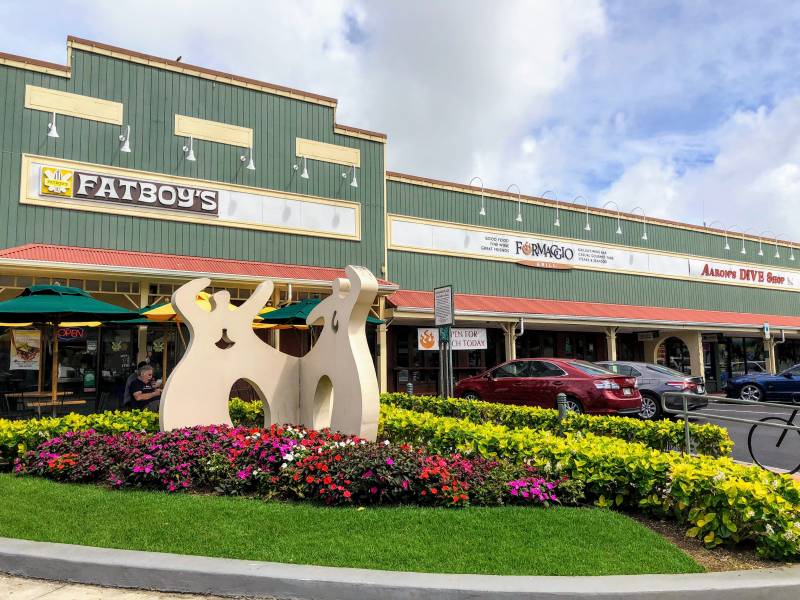 Kailua Town restaurants, dive shops, and services.
Lau Hala Shops (Old Macy's)
Lau Hala Shops expanded Kailua's food and service selections. Located in the Old Macy's building in the center of Kailua town, Lau Hala Shops, are another go-to place for residents and visitors alike. The building where Macy's once called home, was remodeled and redesigned to welcome new tenants, thus adding to Kailua's shopping, restaurant, and services selections.
Some of the new and popular tenants include:
Maui Brewing Company
Down to Earth groceries
UFC Gym
Goen Dining & Bar by Chef Roy Yamaguchi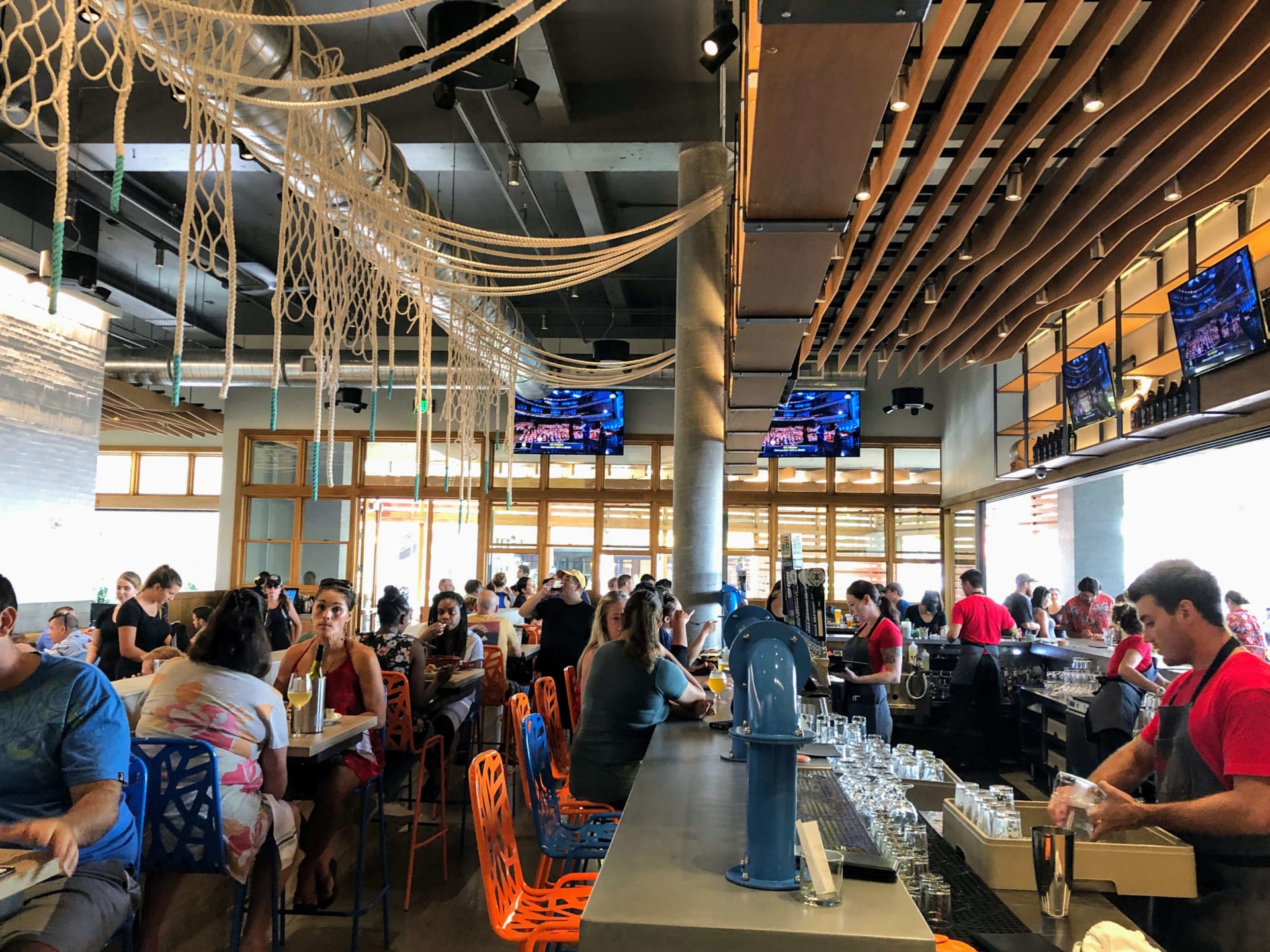 Maui Brewing at Lau Hala Shops in Kailua.
Kailua Real Estate
Kailua has amazing real estate. Whether it's a luxury beachfront home in Lanikai or newer Ka Malanai condos, Kailua has a great selection of properties for every taste. Most of Kailua real estate consists of single-family homes. There is, however, a small concentration of condos within a short distance to all the shopping, restaurants, and amenities that Kailua offers. Townhomes, although not plentiful, are also an option. With a beautiful location next to a turquoise ocean and a sandy beach, Kailua is a popular location for Oahu home buyers. Be ready for some competition in your home and condo search!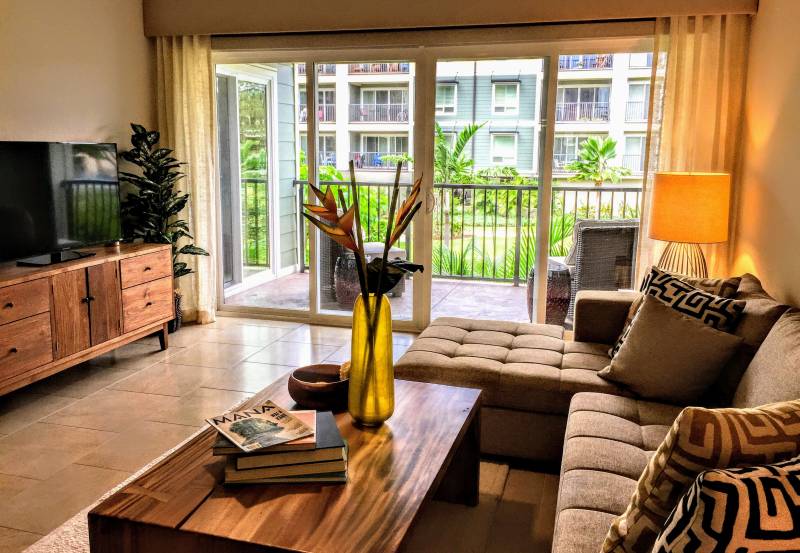 Ka Malanai Kailua condos
For information on Kailua real estate, please don't hesitate to contact me.